Bed Bug Furniture Covers
Bed Bug Furniture Covers. Made from our breathable, soft luxurious Sofcover® fabric, Mattress Safe® FurnitureSafe® is a zippered encasement designed to protect and recover your furniture from a bed bug infestation. A minimal investment in our furniture encasements and protectors can prevent the loss and the heavy cost of replacing your upholstery. Due to hygiene and bed bug concerns, we are unable to accept exchanges and returns.
How To Properly Measure and Order Your FurnitureSafe® Encasement
Due to the size variations in furniture styles, FurnitureSafe® furniture encasements are not custom fitted but instead designed to fit the wide range of available furniture options. To ensure the best fit, properly measure your furniture to determine which size FurnitureSafe® encasements will work best for you.
Measure the length of your furniture from outside to outside
Measure arm to arm
Measure the height of your furniture from floor to the top of the item
Measure the width from front to back.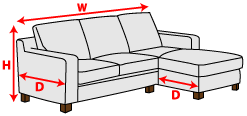 Showing all 4 results